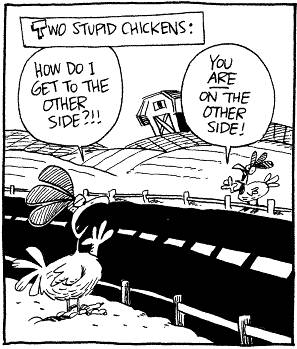 WHY DID THE CHICKEN CROSS THE ROAD?


Plato: For the greater good.


Aristotle: To actualize its potential.

Mark Twain: The news of its crossing has been greatly exaggerated.


Douglas Adams: 42


Dirk Gently: I'm not exactly sure why, but right now I've got a horse in my bathroom.

Arnold Schwartznegger: It vill be back.

Oprah Winfrey: To avoid mad-chicken disease.

Robert Frost: To reach the sidewalk less traveled by.


Daddy George Bush: To face a kinder, gentler thousand points of headlights.

George W Bush: To seek and distroy terrorism.

Sir Isaac Newton: Chickens at rest tend to stay at rest. Chickens in motion tend to cross the road.

Karl Marx: It crossed twice. First time, it was a tragedy; second time, a farce.

Chico Marx: It couldn't. It was a rubber chicken.

Groucho Marx: Chicken? What's all this talk about chicken? Why, I had an uncle who thought he was a chicken. My aunt almost divorced him, but we needed the eggs.


Harpo Marx: Honk! Honk! Honk!

George Orwell: Because the government had fooled him into thinking that he was crossing the road of his own free will, when he was really only serving their interests.

James Dean: To prove he wasn't chicken.

Bill Gates: To purchase Chicken 2.01a, which will both cross roads and calculate the energy it used. There are bugs, yes, but if you uninstall Traffic 2.0 and Farmer 1.2 it will run. If it freezes at WhiteLine 2.0, we have a patch ...

Bill Gates: I have just released the new Chicken 2000, which will both cross roads AND balance your chequebook, though when it divides 3 by 2 it gets 1.4999999999.


Colonel Sanders : I missed one?